2020-03-25
吉富愛の本州一周レポート
こんにちは。JORA海外会員としてトレーニングに励んでいる吉富愛さんの自己紹介を兼ねた本州一周レポートをお届けします。吉富さんは昨年シングルハンドで本州一周を成功させました。将来有望な若きセーラーの冒険をお楽しみください。

吉富愛と申します。私は昨年の夏(2019/07/21~2019/10/8)に単独ヨット本州一周を行いました。
ヨットは26フィートのニュージャパンヨット ソレイユ・ルボンです。
本州一周中の全ての寄港地での日々のブログURLはこちらになります。→ aiai9521.blogspot.com
本州一周中の様子はブログで知っていただければと思います。
今回はなぜ本州一周をしたのかを書かせていただきます。
私が本州一周する理由は大きく分けると2つあります。
1 ヨットの世界、海を知りたい
2 有言実行
1 ヨットの世界、海を知りたい
私は大学に入り、クルーザーヨットに出会いました。
顧問の先生、先輩たちに恵まれ、どんどんヨットの世界に引き込まれていき、
そして、私を大きく変えたのは、部活から出させていただいた、
学生外洋帆走世界選手権。
フランスのマルセイユで行われ、そこで見たものは日本では考えられないヨットのマストの数!巨大ヨット!それを自由気ままに乗りこなすヨーロッパの人々、とても自由で、楽しそうでした。
また、海外の方々との交流、スポンサー集めなどで多くの社会人の方との交流を通して、多くのことを考えさせていただく貴重な経験になりました。
このような体験を通じ、私は大学生という半分大人のとても自由がきく時期に、もう少し自分の人生を考え直し人生を再計画してもいいのではと思いました。
再計画する中でもっと自分が人生において深めたいこと知りたいことは何だろうかと思ったところ、ヨットや海の世界になりました。
2 有言実行
私は今までの20年間、気づけば、自分でやりたいことを、何か理由をつけては諦めてきました。
そんな自分にあまり自信が持てなかったです、、
なら、この休学は有言実行の一年にしようと思ったのです。
何か自分の発した言葉に責任を持ち、必ずやり遂げようと思いました。
その中で私のしたい事、好きな事は
長期でヨットに乗りたい、ヨットをもっと知りたい、自分が生きている日本を知りたい。
よし!全てやろう!
そして、ヨットと、ともに旅に出ることになりました。
チャレンジしたいと思い飛び出してしまった、私を全国の皆さんが優しく受け入れてくださり、またこのような自由奔放を許してくれた親、多くのサポートをしてくださった方々、本当にありがとうございました。この本州一周では多くの方に出会い、助けていただき達成できました。素敵な経験をさせていただき感謝の気持ちでいっぱいです。
この経験で見たもの、感じたものは沢山あります。私がこれからも大事にしていきたいものは好きなものへの情熱です。この経験で得たことを次のチャレンジや次の目標に繋げていきたいと思います。
また下の文章では、大学生活で顧問の先生から学んできた"冒険教育"をもとにこの経験で得たものをまとめたため、この場でも共有させていただきたいと思います。一人でも多くの方に共有をしたいと思い英語で書きました。読んでいただければ嬉しいです。
(*英語バージョンは紹介文の下にあります。There is English version below the introduction.)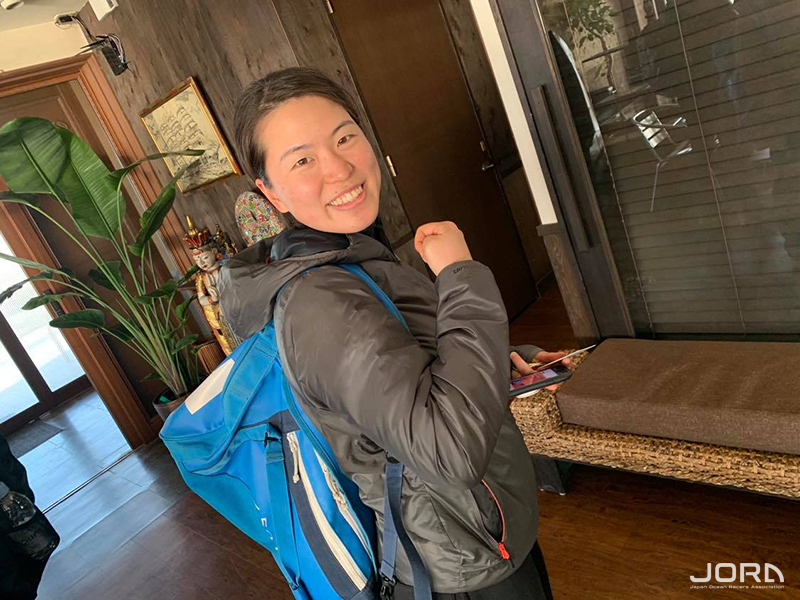 吉富 愛:大阪府出身。神戸大学在学中。フランスマルセイユで行われた世界選手権での経験から、2019年神戸大学在学中にニュージャパンヨットのSOLEIL LEVANT(26フィート)に乗りシングルハンドで本州一周を達成させた。
詳細はこちら→ Sailors 吉富愛

[English version]
"adventure education"
Firstly, let me introduce myself. My name is AI. My major is navigation of maritime science. I like yacht and sailing. I have been to some countries to join yacht race.
Also, I went around japan by yacht alone last year for 3 month. I had have precious experiences.
I'm going to share to you about "adventure education" based on my experience
Adventure education is defined that after people success adventure, they develop various things. Such as changing action for people, planning our own life and improving to realize ourselves.
Also, It is important for adventure education to experience in real. This is not the same as normal education such as writing, reading.
adventure education does not have to be like challenge of mine. It can be easier. For me, if the challenge you will try have these two features, it can be the adventure education. For example, sailing, camping and climbing mountain can be applied for adventure education.
I chose sailing in adventure education. An interesting point of sailing is that ship can be moved only by wind. It requires various techniques. For example, techniques of repairing ship, and navigation.
And we can see many beautiful views of nature through sailing.
We can travel anywhere with ship. I think this is one of attractive points of sailing.
Why did I go around Japan by ship alone last year.
There are three reasons, first reason is because I like ship and I want to live on the ship for long time. Second reason is that I wanted to learn more about sailing.
Also, it is because I wanted to challenge.
However, many people opposed to this challenge. They said you cannot do it.
Because this challenge is dangerous. If ship had trouble, I needed to repair this by myself and nobody could help me.
But I rejected it. Because I like sailing and I did not want to give up.
So I decided to challenge.
After I decided, many people helped me. I think this is because I have a big passion for sailing. so I learnt that passion is important to challenge.
Now I am proud of my choice.
Throughout traveling, I had many opportunities to meet local people , see beautiful views and eat local food.
While I was sailing, I learned many things by talking with many local people. For example, their cultures, problems , life stories in japan.
In addition, many local people have helped me through this experience. I was so happy . If they were not , I could not achieve this.
Thanks to this experience, I got more compassion for people. This leaded me to change my communication style and get to know way of helping people.
In sailing, my favorite time was lunch time! I cooked lunch box. in a kitchen on the boat. Because of this, I developed my cooking skills. Moreover, local people gave me good local food like fresh tomato and salmon roe!! I was so happy. Thank you for giving me.
Furthermore, I could see many beautiful views on the ship. It was more beautiful and magnificent than expected. By seeing many beautiful views, I found that Japan is beautiful.
Let me tell you about one story here. When I saw sunset one day, I cried unconsciously. I think I felt happy from the bottom of my heart in this moment. I was also happy that I could feel like that and also surprised at this experience. This experience is precious.
In summary, I got more compassion for people, developed my cooking skills and felt happy with my heart. I think, because of these learnings, my life has changed.
On the other hand, I also had many troubles throughout traveling by the ship.
For example. If I cannot judge the changing tide of the sea, this lead me got involved in the trouble of uncontrollable situation, Moreover, if the thunder strikes my ship, my ship would sink under the water. So I have executed navigation in order to cope with this problems. Navigation is prediction of weather and planning of voyage so that I can sail safely by precise prediction and fast judgement. For example, when I met big wave, I was not dangerous because I expected that I met big wave by navigation.
Thanks to this experience of navigation, I could learn how to choose important information for prediction and planning from much information.
I also had have many engine troubles on the ship. Due to this, I laughed and cried a lot. Sometimes, It took even 4 hours to repair engine pass way of the sea, It was hard lonely. However, I could not give up because if I gave up, I could not go home. So I kept trying to repair the engine by understanding the system of engine with never give up spirit. Through this experiences, I could get never give up spirits. Also, I could notice that I can utilize the experience in daily life.
In summary, I could learn how to choose important information from much information and could get never give up spirit through these difficulties.
So what can adventure education gives us the most?
I think Adventure Education makes us captain of your own life.
This means, you become able to plan your life plan, live based on the life plan and have every responsibility for your own life.
So how and why can we be the captain of your own life by adventure education?
As mentioned, Adventure Education is what gives us better way of thinking, better life planning and more Self-awareness.
In real, as for better way of thinking, I got compassion for people because many people have helped me. This changed my behavior for people better, As for better life planning, I come to think things positively like I can do all things because I notice that I can do anything if I never stop seeking solution. This make my options for life wider.
Finally, as for Self-awareness, I become to be able to express myself and got confidence because I faced to myself including my weaknesses throughout this travel. This confidence encourage me to next challenge.
So you can be the captain of your own life because you can learn these things.
In addition to this, you can get these hard skills and soft skills by adventure education. Therefore, you can get a lot of skills which is important to live better life by adventure education, and you can be the captain of your own life.
you might feel that you do not know how you want to try to have adventure education. I think that adventure is exploring something you can be passionate. There are several ways to find your passion, for example your personal experience and of course SWY. Adventure education might be one of the option too. So you can start your adventure education with what you can be passionate.
also, if it is possible, It is important for adventure education to experience in real with nature.
If you want to be life captain, you can experience "adventure education". And while adventure education, please do not forget to enjoy the process of it because it is adventure.
Finally, last message from me. The reason why I have this presentation is that I want to spread this idea of adventure education to children because I want to them to have more exciting life in the future by getting back ground. So please share this idea with your friends, family and children after this seminar.
Shall we go on an adventure??
ほかの記事を読む